Every year thousands of people from all over our community give donations to make a lasting change our community. 
When you give to the Ada Regional United Way, your contribution helps foster both individual and collective success. When you give your donation is combined with those of other members in the community to create an exponentially larger impact in the lives of your friends, neighbors, coworkers and family.
Ada Regional United Way offers a variety of options for donors to support our work, whether through your employer, the web, planned giving, a donation of stock, or even text-to-give.  Find out which method of giving is best for you.
Where does my money go?
Invest locally 
Of the resources generated in the area, 99% stay here.
Invest where you have the most impact
Your investment is combined with others to have an even greater impact than what you could do alone.
Invest in caring
We are about people helping people. We care about changing individual lives and improving the overall quality of life in our community. United Way stands for helping, hope and optimism.
So how can you give?
Employee Campaign and Payroll Deductions
Many local businesses run employee campaigns to give their employees an opportunity to invest in their community through a payroll deduction or a one time gift. Some even run their campaigns during Open Enrollment. Should you choose to offer an employee giving campaign, we have a toolkit that can walk you through how easy it is to do, along with personalized assistance from our office. We can also set up an online pledge platform with a personalized link for employees to use. How awesome is that?! Contact our offices for more information.
Corporate Donations
Businesses can also give a one-time or anytime gift that is tax deductable. business logos are recognized on our Investment Partners page. 
Online Giving
You can easily give from your phone, tablet or computer by visiting our online donation page. No matter what way you give, we have online platforms set up for easy giving. We do our best to orchestrate a platform of giving for all levels.
Shop Amazon and They Donate
Have you heard about Amazon Smile? It'll have you smiling ear to ear. You get to shop as normal but give back to your community. It even works with Prime members. When you choose to shop with Amazon smile, you'll find the same Amazon you love with the added bonus of 0.5% of your purchases benefitting Ada Regional United Way! (Amazon Smile doesn't cost you anything, the donation comes from their foundation)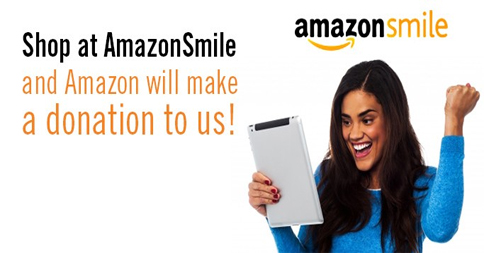 Bookmark our special link and use it any time that you shop online smile.amazon.com/ch/73-0941532 or
Use AmazonSmile on a web browser:
1. Visit smile.amazon.com
2. Sign in with the same account you use for Amazon.com
3. Select your charity (Ada Regional United Way)
4. Start shopping! Remember to checkout at smile.amazon.com to generate donations for your chosen charity.
Tip: Add a bookmark to make it easier to shop at smile.amazon.com.
Use AmazonSmile on the Amazon mobile app:
1. Open the Amazon Shopping app
2. Navigate to the main menu
3. Tap on Settings and then select "AmazonSmile"
4. Select your charity (Ada Regional United Way) and then follow the on-screen instructions to turn ON AmazonSmile in the mobile app
**Once AmazonSmile has been activated in your app to your account, future eligible app purchases will generate a donation for Ada Regional United Way**
Note: The tablet app is not yet supported.
Now your shopping experience has more meaning!
Text2Give
Giving through Text2Give is incredibly easy. Text the word "GIVE" to (580) 215-6468. You will be instructed to follow a link to complete a one-time registration to enable your phone. You will then be asked to confirm your payment information. Once your payment information is confirmed. You can easily text in your donation. So say you want to donate a one time contribution of $20, you would text in "GIVE20". Once you're all set up, you can give at anytime by simply texting "Give (amount)" to (580) 215-6468. 
Stock Donation
Stock donations can be shares of stock that you own in a public company, in a private company, or in a mutual fund. Contact us and we can walk you through the process. 
Legacy Gifts
By using planned giving, you're ensuring your legacy gifts will make an impact that will be felt in your community not only during your lifetime, but for many years to come.
Find Out More About Giving