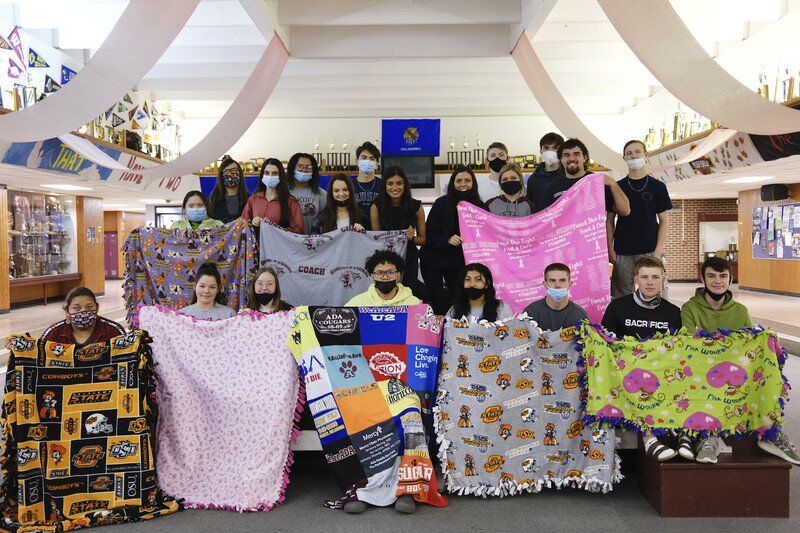 Ada High School's FCCLA and Student United Way organizations worked together in the creation of around 20 t-shirt quilts. 
Students gathered t-shirts that they no longer wore from around their homes for the project. Rather than donating these shirts to Goodwill, who send roughly 5% of donated clothes to landfills, student Ovviyaa Ramakrishman organized these creative efforts with a community organization, Ada Homeless Services, in mind. 
"I was looking up ways to dispose of them (t-shirts) and for the most part they just go to goodwill and end up in landfills, which I didn't like. So I created this to reduce waste and create blankets for the homeless to avoid filling landfills and in the end, helping people instead," Ramakrishman said Thursday. 
In response to the students presenting the blankets to Sarah Frye, the Ada Homeless Services executive director said, "When we rehouse people they are going from completely homeless into housing and supplies are always in huge demand.
"To make something for someone, it always just means a little bit more. This is really special and neat and I know that we will give these(blankets) to young adults and teenagers that are getting their own beds and rooms for the first time in their lives," continued Frye.
Ron Anderson, Ada High School girls golf coach and Student United Way advisor took a part in overseeing this project and spoke about the donations received to complete it. "We had a lot of people involved in the quick time that we had to do it. We're hoping to continue with this next year, too," said Anderson. 
The Student United Way is a young organization at Ada High School and they have big plans for their future within the school and Ada community. 
"You always see groups fundraising, but we tried to involve as little money as possible." Ramakrishman said. "We foster an environment of people helping people, this is something important to me." 
Read the story at ...
https://www.theadanews.com/news/local_news/ada-high-fccla-and-student-u…