AHS Student United Way is hosting
BLUE OUT NIGHT, PIG ROAST, SILENT AUCTION & 50/50 RAFFLE - OCTOBER 7TH!
Ada vs. Madill football game
This week-long campaign will be filled with events and fun for Ada High School students and staff, including Shade Day, Tourist Day, Beach Day, Tiki Bar with Jurassic Ice selling snow cones, Beach Day, and many more activities. You may reserve your Blue Out t-shirt and Pig Roast tickets by using the Google link attached.
Ada Cougar Boys Basketball will be co-hosting the Pig Roast.
You may pick up both your t-shirts and tickets at Ada High School
on Wednesday, October 5th, or Thursday, October 5th from
11:00 AM to 2:00 PM.
Blue Out Shirts payable to ARUW.
Pig Roast Tickets payable to AHS Student United Way.
Ticket sales will end on Thursday.
Shirts will be sold at Pig Roast and at the game if available.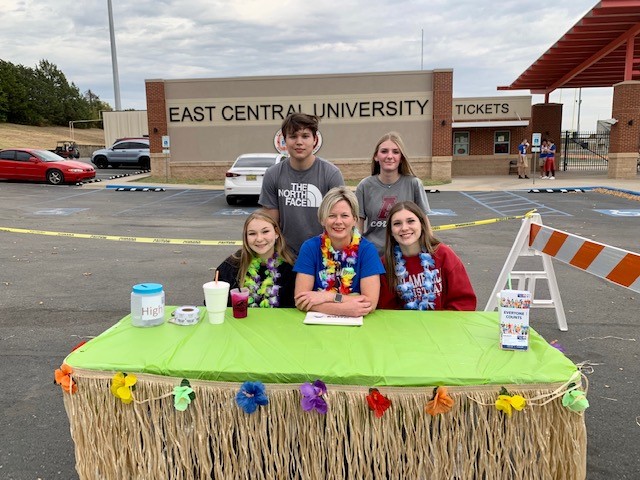 The Ada Regional United Way (ARYW) is also sponsoring a contest with school and area organizations. Those participating could win up to $5,000 for their organization or school by selling t-shirts and then guessing the correct final score of the Ada vs. Madill football game. "We are thankful to the Ada Regional United Way for sponsoring this event. This should make for a very exciting night and keep everyone glued to the action on the field," said Makaviya Nelson AHS Student United Way member. Carter Colombe a member of the Student United Way and the boys' basketball team says everyone wins, "If an organization is lucky to predict the score correctly, the organization wins, the Student United Way wins, the Ada Regional United Way wins and our community will also benefit from the cash prize."     
The Student United Way and Boys Basketball want to give a big thank you to the many sponsors that made "Blue Out Week" possible. We are so grateful to have such a giving community for the many student projects, events, organizations, athletics, booster clubs, and others. But more importantly, we want to thank everyone for supporting and helping those less fortunate than we are. Strengthening the health, financial and educational opportunities for those in our community may not affect you directly but, it most certainly affects everyone indirectly. The AHS Student United Way has embraced this comment by Dr, Martin Luther King,
"If I cannot do great things, I can do small things in a great way". Thank you again for supporting "Blue Out Week"