Casey Pivonka and her two small children received a gift worthy of all the good things we hold dear about Christmas. They received a new home. "This is overwhelming. This is amazing," Pivonka said at a Dec. 3 meeting at the Ada High School Student Center.
" I'm Casey, and I'm homeless, " Pivonka continued. "My children and I came to Ada two months ago. I was a victim of domestic violence. I am a survivor. The Family Crisis Center was there, they opened their doors and their arms to me. It is because of them that I am able to stand in front of you right now. I'm healthy, I'm employed, I'm independent, and my children are proud of me. Now I have all this beautiful stuff to go in my new home. Thank you all so much."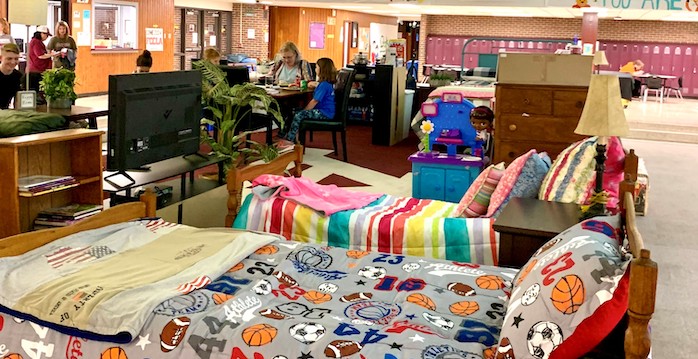 "Students and teachers have collected furniture, supplies, and everything, enough for a small family to move into a home," Ada High School teacher and Ada High's Student United Way lead, Ron Anderson said. "We came across a teacher's assistant (Pivonka) at Hayes School, and her kids go to Hayes School. I came across her while driving a school bus in the morning." Pivonka and her children had been residing in the Family Crisis Center, but were recently able to look at housing options.
"She literally just had nothing," Anderson said. "So we just started from the bottom and worked our way up, and got bunch of neat contributions." Anderson said most of the donations came from teachers, and additional donations came from students. "We also had sponsors," Anderson said. "Williamson Furniture, Rhynes and Rhodes Furniture, Ada Homeless Services, and the Family Crisis Center have all been very kind to help out with this project."
The donations ranged from furniture to kitchen supplies to toiletries, and ended up being an entire household's necessities. "This is a day that shows the giving spirit of Ada High School," Sarah Frye, Ada Homeless Services Director, said. "Let me just say that this is a day that makes me really proud, kind of emotional, really. Ron (Anderson) said this is what we do every day, but to me, this is above and beyond."