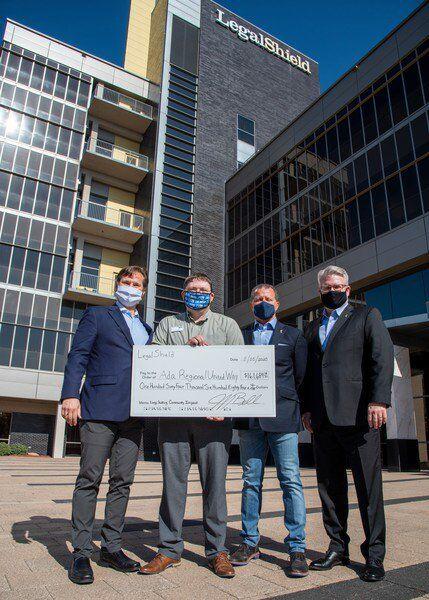 LegalShield made history last year when LegalShield CEO Jeff Bell and CFO Steve Williamson became Ada Regional United Way's (ARUW) first-ever Tocqueville Society donors by pledging more than $10,000 each to invest in community programs. This year LegalShield made history once again, by collecting the largest employee campaign in ARUW's history - a record-breaking pledge total of $161,684 in support of United Way.
"I was speechless when I saw the totals!" said Ada Regional United Way Executive Director James Jackson." We are so appreciative of their support. Last year LegalShield raised an extra $80,000 and this year they raised their pledges an additional $36,000 in support. It is incredible to see their commitment to serving our community through partnering with United. I believe it shows that Mr. Bell and Mr. Williamson see that United Way is the best way to do the most good for those in our community."
Each year, Ada Regional United Way partners with local businesses, organizations, and individuals to raise vital funding for local health and human services agencies. It is with the help of these community members that those in our community get the services they need to move from dependency on programs to self-sufficiency. With 25 programs working in the areas of health, education, and financial stability, ARUW improves the lives of individuals in their 51,000-person service area that touches 9 counties surrounding the Ada area.
"We are committed to supporting our Ada community and the Ada Regional United Way is a great way to do that" said LegalShield Chief People Officer Alan Madden, "LegalShield employees are very passionate about serving and supporting their communities. Ada is our home and we will continue to support the needs of our community and the surrounding areas."
LegalShield has set the pace for the community for this year's Ada Regional United Way Campaign. However, it takes all of us doing our part to ensure that these vital programs continue to operate, especially during the unprecedented interruptions that COVID-19 has caused to our lives. While many were able to shut down and quarantine, the programs funded by Ada Regional United Way continued to operate to make sure that their clients were not left behind. We encourage you to follow LegalShield's example and give to the United Way Campaign. Go to www.adaunitedway.org/givenow for more information.
Read the Full Article from the Ada News